Wat Suwan Dararam, Ayutthaya

Video of Wat Suwan Dararam at bottom of this page.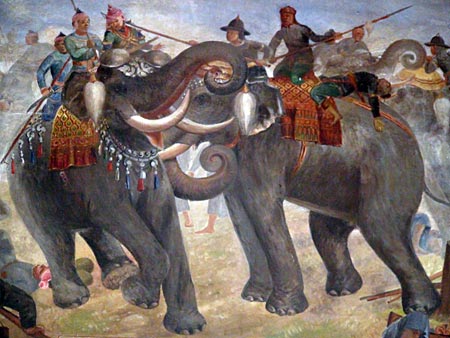 Battle scene between King Naresuan the Great and the Burmese army. Viharn of Wat Suwan Dararam.
Wat Suwan Dararam is a temple built in the later days of Ayutthaya. Nowadays it looks like a rather 'new' temple compount close to the junction of the Pasak River and the Chao Phraya river.
Wat Suwan Dararam is famed for its mural paintings in both the Ubosoth and the Viharn.
The Ubosoth is built in typical Ayutthaya style, with a curved base. Paintings inside depicts the Jatakas (previous lives of the Buddha) and typically inside above the entrance the story of Subduing Mara (calling the Earth to witness).
The Viharn features various battle scenes involving King Naresuan the Great. Inside above the entrance is the famous scene of King Naresuan doing battle on elephant back against the Burmese. There seem to be various copies of this painting around in Ayutthaya.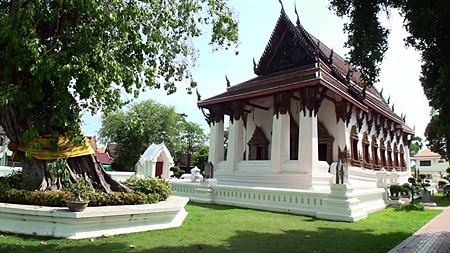 Ubosoth of Wat Suwan Dararam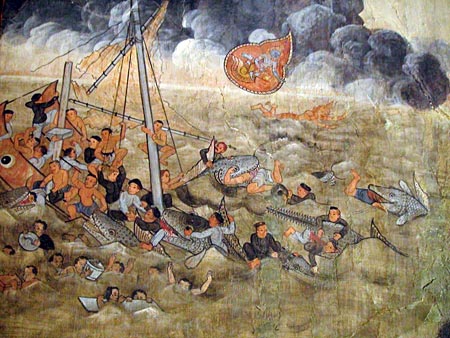 Mahajanaka Jataka mural painting in the Ubosoth of Wat Suwan Dararam