Wat Ratchaburana, Ayutthaya


Video of Wat Ratchaburana at bottom of this page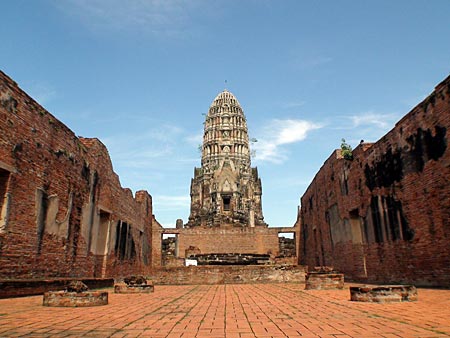 'Grand Hall' and main prang at Wat Ratchaburana
Wat Ratchaburana was built by King Borom Ratchathirat II at the place where both his brothers died (they killed each other) during a fight for the vacant throne of Ayutthaya. After both his brother had died, King Borom Ratchathirat II became the King. As such, Wat Ratchaburana was built during the early Ayutthaya period. The prang was the centerpiece at the temple compound.
The vault of Wat Ratchaburana became known to the public some decades ago, and looters broke into the vault in 1957. The looters were apprehended, but a lot of the stolen goods were never recovered. Later on more than 100,000 votive Buddhist tablets were found, as well as gold jewelry with a combined weight of more than 100 kilograms.
The vaults inside the main prang also displayed mural paintings, depicting the previous lives of the Buddha. Unfortunately, over the last few years these images have deteriorated a lot. Only very few visible images are left.
A large amount of the golden artefacts and treasures found at Wat Ratchaburana are displayed in the Chao Sam Phraya National Museum. This museum also houses a nice collection of Buddha images in different styles, and wooden door panels from different temples in Ayutthaya.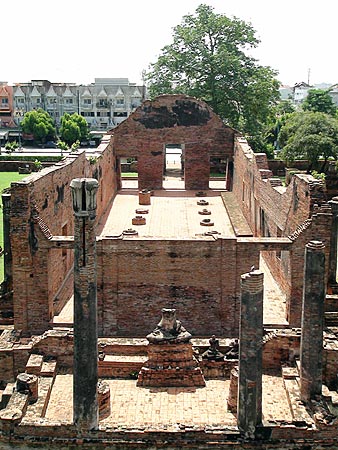 View of the Viharn from the Prang at Wat Ratchaburana in Ayutthaya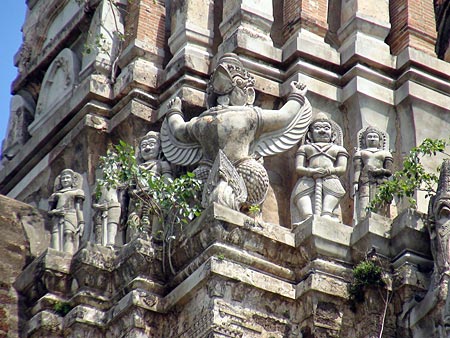 (Restored) Garuda image halfway the main prang at Wat Ratchaburana, Ayutthaya

Larger and more pictures of Wat Ratchaburana