Wat Phanan Choeng, Ayutthaya


Video of Wat Phanan Choeng(with changing of the Buddha Image's robes) at bottom of this page.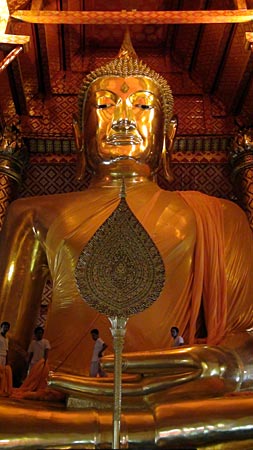 Phra Chao Phanan Choeng at Wat Phanan Choeng, Ayutthaya.
Wat Phra Chao Phananchoeng is located southeast of Ayutthaya island at the confluence of the Pasak River and the Chao Phraya River.
According to historical records a first temple was built at the site in 1324 A.D. (before the founding of Ayutthaya). However, we think none of the original buildings remain, since the temple now has a quite 'modern' appearance.
An impressively large Buddha Image, Phra Chao Phananchoeng, is houses in a specially dedicated tall building. It is constructed of brick and mortar. Its precise date of construction is not known. It is reported to have been repaired at the time of King Naresuan the Great.
It was also repaired and renovated by the Kings of the Chakri Dynasty.
Wat Phanan Choeng is a busy wat, with many Thai people worshipping there. They reportedly offer worship to the image and obtain predictions of their luck. You will also notice a lot of Chinese characters and writing before entering the main building. Chinese people name the image 'Sum Poh Kong', which means 'Good Luck in Boating'.
The Buddha Image itself measures 14.25 meters from knee to knee, and 19 meters in height (including the ornament above the head). Is has the posture of Subduing Mara (as so many Buddha Images in Thailand). While it is constructed of bricks and mortar, the Buddha Image now is completely gilded.
This temple is different from most other temples you may visit in Ayutthaya, since it is a 'living' one. Many Thais (and Chinese) worship here. At the time we visited a ceremony was taken place, where the robes of the Buddha Image were being changed (see video).
When you come of the center of Ayutthaya, the best way to get to the temple is by taking a boat ride (ferry) for just a few baht from Wat Phanan Choeng Pier. You can take a bike along, just be a bit careful when boarding.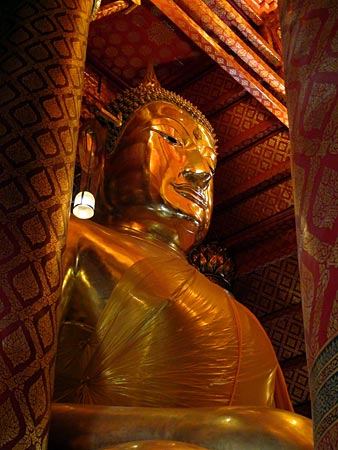 (info modified from documents from the Department of Fine Arts)