Wat Mahathat, Ayutthaya


Video of Wat Mahathat at bottom of this page.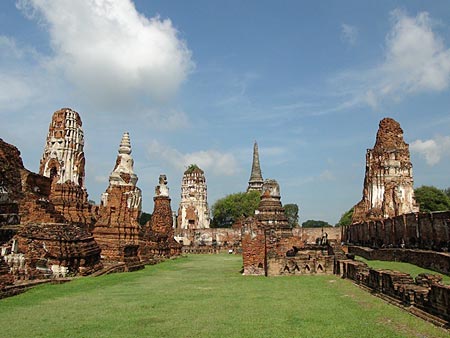 Chedis and prangs at Wat Mahathat, Ayutthaya
Wat Mahathat (Temple of the Great Relics) is located almost right in the center of Ayutthaya. Apart from being the symbolic center where the Buddha's relics were enshrined, Wat Mahathat was also the residence of the Supreme Patriarch or leader of the Thai Buddhist monks. The temple is believed to be built during the 14th century A.D. (the early Ayutthaya period).
The main prang collapsed during the Ayutthaya period, but was restored. It collapsed again in 1911, so only the foundation of the main prang remains at present.
However, it can easily be judged from the size of the base, that the prang was quite high. As in most architecture of the early period of Ayutthaya, the main prang was the most important edifice in the temple compound.
For tourists, Wat Mahathat offers the much photographed Buddha head, embedded into a tree trunk.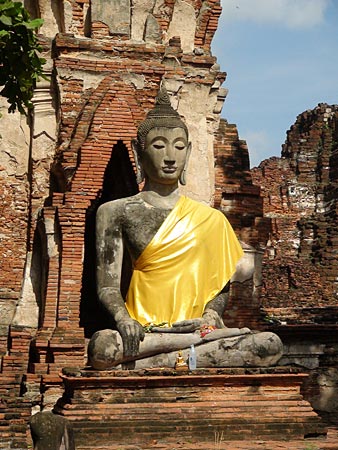 Buddha Image in the viharn at Wat Mahathat, Ayutthaya.
The well known image of the Head of the Buddha, with tree trunk and roots growing around it. Wat Mahathat, Ayutthaya.

Larger images of Wat Mahathat, Ayutthaya.