Wat Phutthaisawan, Ayutthaya

Video of Wat PhutthaiSawan at bottom of this page.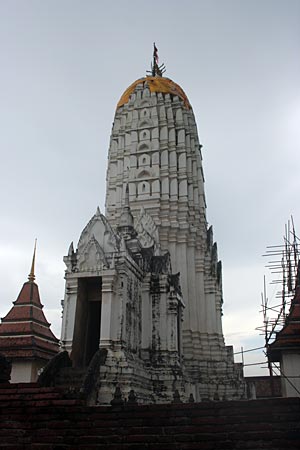 Prang at Wat PhutthaiSawan, Ayutthaya
The prang at Wat Phutthai Sawan is located in the middle of the compound. It is surrounded by a cloister, that houses rows of Buddha images. The prang is built on an indented pedestral with 2 staircases in the east and the west. There are two mandapas to the north and the south of the prang. The prang itself houses the main Buddha image.

Wat Phuttha Sawan was constructed by King U-Thong just south of the Chao Phraya River. Since built be the first King of Ayutthaya, it is an important temple, and has frequently been restored. Originally smaller prangs would have flanked the present main prang.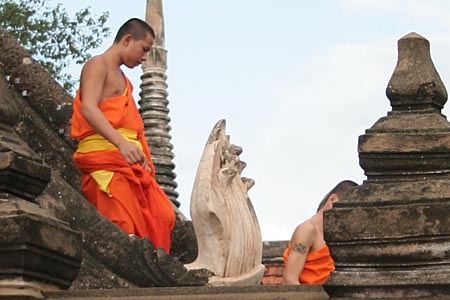 Monks at Wat Phutthai Sawan, Ayutthaya. Notice the Naga Head in the middle of the picture.
Wat Phutthaisawan is one of those temples that is just a bit difficult to reach when you are staying in Ayutthaya. You will have to make a detour with your bike to get there. Unfortunately, there are no regular ferry services here, probably because significant cargo ships regularly pass here. Because of its location, it is best to combine a visit to Wat Phutthaisawan with a visit to Wat Chai Wattanaram, just a few kilometers to the west. Your map will reveal a bridge over the river close to Wat Chai Wattanaram.
An alternative way is to cross the river by ferry at the junction of the Pasak River and the Chao Phraya River, at the southeastern corner of Ayutthaya island. You can take your bike on the ferry boat, just be a bit careful.
Once you arrive at Wat Phutthaisawan, you will have to walk through the newer (buildings are being constructed at present) parts of the temple compound, to reach the historical whitewashed prang. The reclining Buddha image is behind to the right of the courtyard of the prang.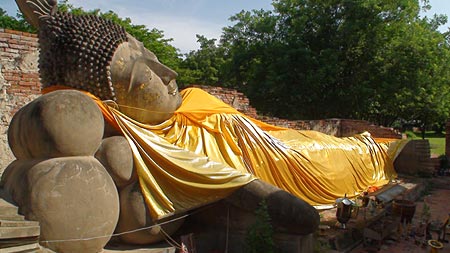 Reclining Buddha Image at Wat Phutthaisawan