Ayutthaya Info : Getting there, getting around, recommended Itinerary
Video of Highlights of Ayutthaya
at bottom of this page.
Getting to Ayutthaya | Getting around town | Recommended Itinerary | Some comments and suggestions regarding Ayutthaya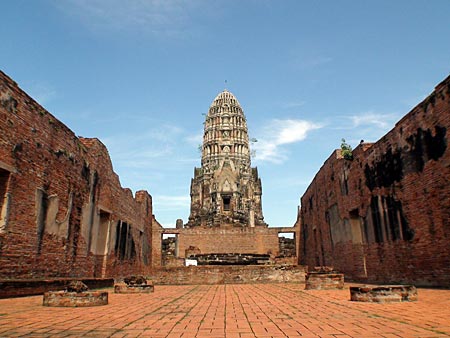 Wat Ratchaburana
If using public transport, we suggest you go to Ayutthaya either by train or by minivan.
Many trains leave daily from Bangkok's Hua Lamphong railway station (which is located at the MRT subway terminal). They often stop there on the way up further north. The train ride takes about 90 minutes, half of which is spent getting out of Bangkok. Probably you should avoid the few second-class trains. Being rather unaware of the difference in price, we paid 315 baht for a one-way ticket and got a ride in a rather delapidated passenger car. But you get air-conditioning and a free meal is included. The third-class trains costs only 15 baht if I remember well, in any case much less. Interestingly, our second-class train was almost full, with people that I doubt would (or could) fork out 300 baht for the ride, so likely there is two-tier pricing at work.
If your hotel is in the eastern or middle part of Ayutthaya, you should walk west (go opposite of railway station) towards the river, just 200 meters away. There is a ferry service that takes you over the river for just a few baht, beats making a big detour over the bridge, a few kilometers south, with a local tuktuk.
Minivans used to leave for Ayutthaya from Victory Monument in Bangkok. However, end 2016, their starting point from Bangkok is at Mor Chit Bus Terminal, which is a lot less convenient for travelers (but may help travel congestion at Victory Monument). Take the subway to Mor Chit station (last station) or MRT to Chatuchak station (also last station). From there take a taxi to Mor chit Bus Terminal. Be not confused, the Mor Chit station of the BTS subway is kilometers away from the bus terminal. You can find schedules to Ayutthaya on transitbangkok.com (click on the menu on top pointing to 'Go outside Bangkok'. Fare is 80 baht one way.
The minivan's station in Ayutthaya is off Naresuan road (Ayutthaya's free-wheeling bus station). Be aware that Thai minivan drivers take more risks than advisable, so using a minivan is just a bit less safe than going by train, which takes twice as long. However take also into account that the railway station is much easier to reach central Bangkok. There are also minivans leaving from Khao San road at 270 baht. This may be much more convenient for people staying in that area, but only a few trips are made every day.
Taking a bus from Bangkok to Ayutthaya is not a practical proposition.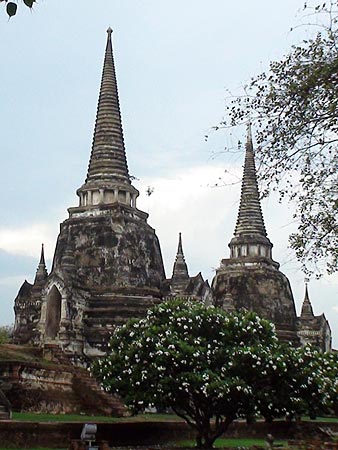 Two of the chedis at Wat Phra Sisanphet
A lot of the historical monuments are clustered together. Nevertheless, since we are talking about big temple compounds here, it would take just a bit too much energy and time to walk from one temple to another. The way to go is by bicycle. Bicycles can be rented all over town, prices vary between 40 and 100 baht a day. You will not get an upmarket mountain bike though, just a cheaper model, which may be quite reliable though. Make sure to check the tires and brakes. You may be able to get a lock, but certainly not all shops will provide you with one.
While there are a lot of wats in the middle and western part of Ayutthaya, some interesting ones are located on the outskirts of town, that is outside Ayutthaya 'island'. We went to Wat Yai Chai Mongkol (east of town), which is about 5 km by bike, and Wat Chai Wattanaram, (west of town), which we estimate is about 10 km. The roads are OK, the traffic in Ayutthaya a bit awful, also with many double-parked cars.
Wat Phanan Choeng, an interesting temple, is located just southeast of the city. Be aware that there is a ferry service that can get you there, and you take your bike on the boat, just be a bit careful.
Use suntan when cycling around Ayutthaya! And put it on your wrist and fingers, and on your shins and feet if you do not wear socks. The sun here can be treacherous.
There are a lot of tuktuks available. You have to negotiate the price. Groups of tuktuk drivers often are located together in certain locations, and then you seem to have to negotiate with the 'boss' of the gang, who will designate the driver. We took a tuktuk to visit Wat Phutthaisawan (south of town) which costs us 200 baht (we did not negotiate), and the driver waited there for us about 90 minutes. It may be useful to combine a visit to Wat Phutthaisawan with a visit of Wat Chai Wattanaram (300 baht?). You could probably use a tuktuk if you visit Wat Phu Khao Thong, or even Wat Yai Chai Mongkol if you are a bit tired or not fit.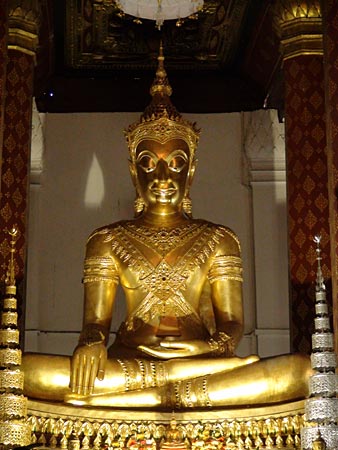 Phra Buddha Nimitr in the Ubosoth of Wat Na Phra Men
Ideally, one should spend 3 or 4 days in and around Ayutthaya.
This is how we did it.
(1) Half-day :
Wat Yai Chai Mongkok
(2) Half-day (center of Ayutthaya) :
Wat Mahathat | Wat Rachaburana | Wat Phra Ram | Wat Thammikkarat
(2) Half-day (center of Ayutthaya) :
Wat Mongkhon Bophit | Wat Phra Sri Sanphet |Wat Lokayasutha (Phra Noon).
We missed it on our latest trip, but you probably should also include Wat Worachetharam, close to Phra Noon.
(4) Half-day : (east and northeast)
Wat Chai Wattanaram | Wat Kasattrathirat | Wat Na Phra Men | Wat Choeng Tha
(5) Half-day : (southeast)
Wat Phanan Choeng | Wat Suwan Dararam (closes at 5 P.M.)
(6) Half-day : (south)
Wat Phutthaisawan - There is no ferry across the river to reach it!
Wat Maheyong is located a few kilometers east. Wat Som in the southeast of Ayutthaya. They both are a bit of track, as is Wat Phutthaisawan, but also worth a visit.
Sunset : Chai Wattanaram | Wat Ratchaburana, Wat Mahathat, Wat Phra Sri Sanphet, Wat Phra Ram. These temples are lighted from sunset till 9 P.M. Possibly you can take a tuktuk to do it. This if you want to visit Wat Phra Sri Sanphet and Wat Phra Ram, because at night they appear a bit in the middle of nowhere, the streets are not lighted. It is a bit eary by bike, you think any moment a pack of dogs is going to attack you from the site of the road.
Suggestion : (1) + (5) can be combined in one afternoon. Go to Wat Suwan Dararam first, then cross the river by ferry to Wat Phanan Choeng, then cycle east towards Wat Yai Chai Mongkol.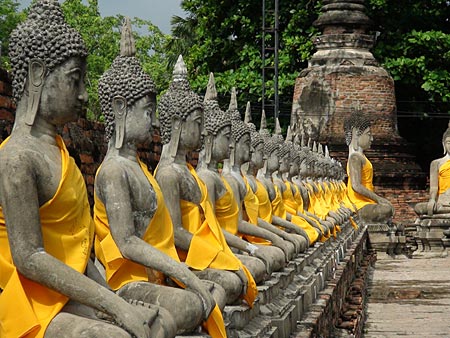 Row of Buddha Images at Wat Yai Chai Mongkol
What could be better in Ayutthaya?
Ayutthaya could certainly improve itself. Most importantly, we visited in the low season, and there were very few foreign visitors. We estimate that at any time there are about 300,000 visitors to Thailand. One would expect at least 5,000 in Ayutthaya. I would be surprised if there were more than 500 visitors when we were there.
Chaos when on your bike! While the roads are good enough, and cycling is easy (no tough climbs), it is free for all in Ayutthaya. While it is not a big city, it looks like everybody is just driving his car around town. A lot of double parking, so you have to go to the middle of the road to pass cars. At night, the streets leading to the nicely lighted temples are stark dark.
Dogs are a problem around town and even inside some of the temple compounds. We did not really dare to walk around Wat Phra Sri Sanphet because of this.
The bus 'terminal', basically just a street off Naresuan Road, is total chaos.
By the way, there are some stalls in that area that sell Bangkok newspapers, but only for the early risers.
The tuktuks can be useful, but their use is not regulated at all, so you have to bargain with the drivers, and try not to get upset when they have outrageous demands.
One would think it is easy to go to Bangpa-In from the bus station, but there are no real buses going there, only songthaews, and it takes forever. It is better to plan your trip to Bangpa-In from Bangkok.
Accommodation : It must mean something. There are a lot of guesthouses and budget hotels in Ayutthaya, but we did not really notice any upmarket hotels around town.
There is a small department store on Naresuan road. Also some fast food outlets etc.
What we found particularly strange is that some interesting temples are difficult to reach, because it is not possible to cross the river(s) except opposite the train station and opposite Wat Phanan Choeng. So to go to Wat Chai Wattanaram or Wat Phutthaisawan, one has to make big detours to cross a bridge in the east of Ayutthaya. We suspect ferries have been abandoned (for sure they must have been there in the past) because of rather heavy traffic on the river. We just read an article in the Bangkok Post pointing out that river transport is booming around the area. Lots of long barges likely makes it a hazard to cross the Chao Phraya River in a small boat.