Wat Chai Wattanaram, Ayutthaya


Video of Wat Chai Wattanaram at bottom of this page.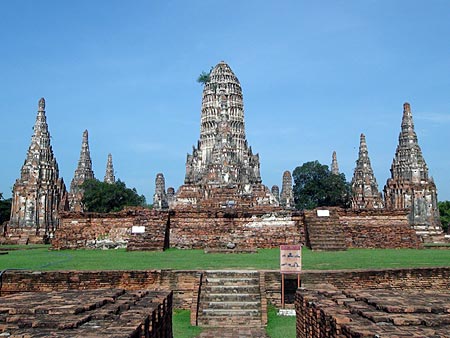 Overview of the main Prang at Wat Chai Wattanaram, with surrounding smaller prangs and towers
Wat Chai Wattanaram was built in 1630 by King Prasat Thong during the later period of Ayutthaya. It was built to commemorate his mother's hometown and to celebrate his coronation. The main prang is surrounded by many lesser prangs and towers in eight directions. The main prang is believed to contain relics of the Lord Buddha. Another theory is that it was also built to commemorate yet another victory of the Khmer, therefore going back in using Khmer architecture.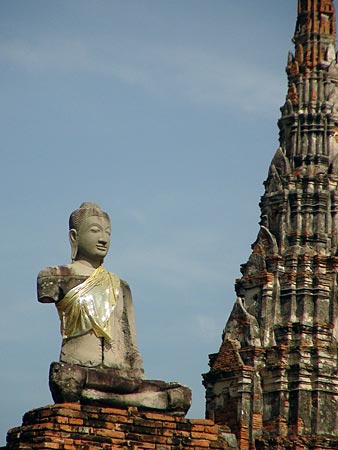 (Recent) Buddha Image in the remains of the Ubosoth (ordination hall) at Wat Chai Wattanaram
The main prang symbolizes Mount Meru, and the four small corner prangs symbolize the four continents where human beings live (Buddhist cosmology view). Around the central structure with the main prang, in the eight direction, large tower buildings are present, which are connected by a gallery, containing numerous Buddha images (now almost all of them have been decapitated). The Buddha images are in royal attire, and some images still show a crown on the head of the Buddha. The Ubosoth (coronation hall) is in front of the main prang compound, located towards the river. Only the base of the ubosoth is left in place.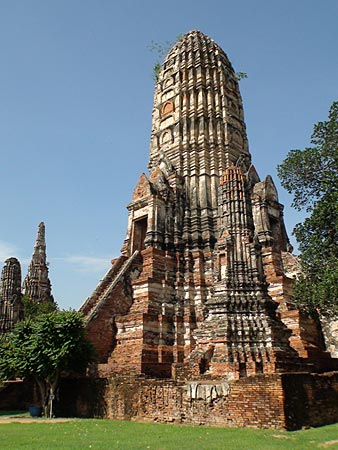 Main Prang at Wat Chai Wattanaram
Historical Notes
Originally 120 lacquered Buddha Images (with the posture of Subduing Mara) were placed along the gallery. The lesser prangs contained crowned Buddha Images (Ayutthaya style). Mural paintings decorated the walls.
Wat Chai Wattanaram was a royal monastery. The King and its descendants would perform religious rites here. It was also a cremation site for members of the Royal family.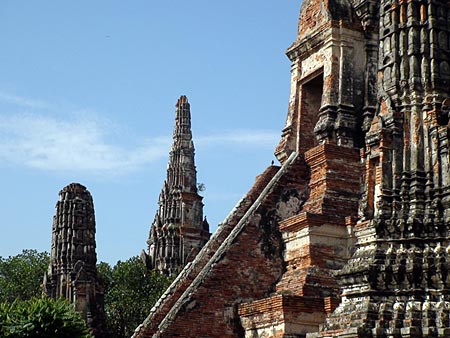 Main prang with smaller prang and tower in the background
During the war with Burma in 1767 A.D. the Wat was uses as an army camp. After the defeat in the war, Wat Chai Wattanaram was abondoned. Looting and selling of bricks became common practice. Conservation of the compound was started finally in 1987 by the Thai Fine Arts Department. Nowadays it looks like the most impressive wat in Ayutthaya.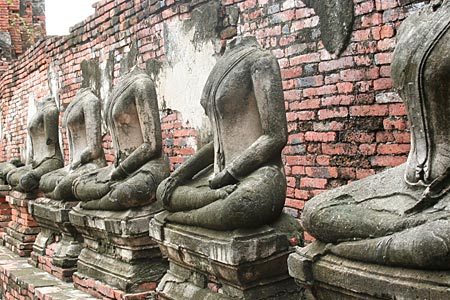 Decapitated Buddha images in the gallery connecting the outer towers at Wat Chai Wattanaram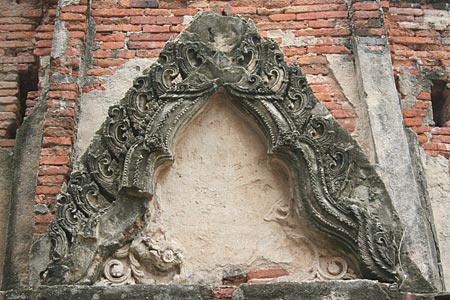 Pediment decoration at Wat Chai Wattanaram, Ayutthaya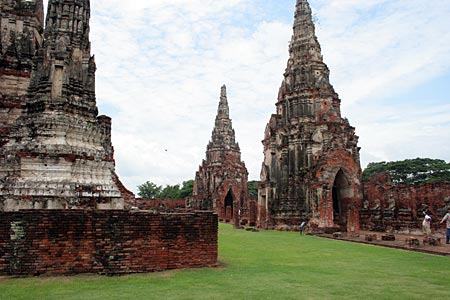 Two towers to the right (there are 8 in total around the main prang). To the left one of the smaller prangs that are close to the main prang at Wat Chai Wattanaram

Larger images of Wat Mahathat, Ayutthaya.