Wat Phra Ram, Ayutthaya

Video of Wat Phra Ram at bottom of this page.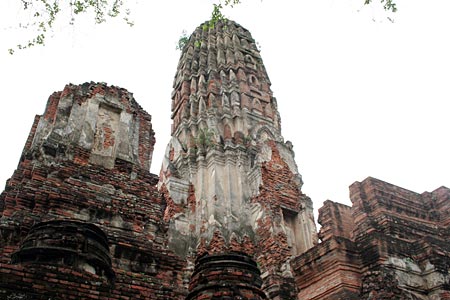 Main Prang at Wat Phra Ram, Ayutthaya
Wat Phra Ram was built in 1912 B.E. by King Ramesuan at the cremation site for his father, King Uthong. Since he reigned initially only for one year, it is assumed the construction was completed by this successor King Borom Rachathirat I, or by King Ramesuan during his second reign.
The temple has been restored a few times in the subsequent centuries, during the reign of King Borom Trailokanath, and later by King Borom Kot in 2284 B.E.
The temple compound houses a large prang and many chedis.
In front of the temple, there is a large pond formerly named 'Nong Sono', now Bung Phra Ram. Earth was dug out at this site, for the construction of surrounding temples (Wat Mahathat, Wat Ratchaburana, the former Royal Palace).
When we wanted to visit Wat Phra Ram the site was closed. Not sure whether this was temporarily or not. In any case, you can have a good view of the site just by walking along its perimeter.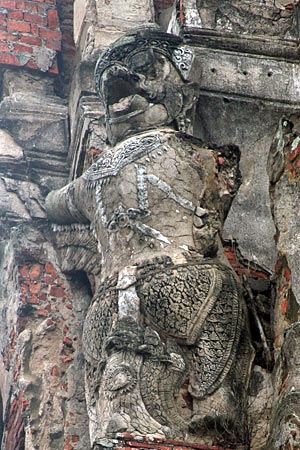 Garuda image on the prang at Wat Phra Ram. Garuda images are typically present on prangs of the early Ayutthaya period.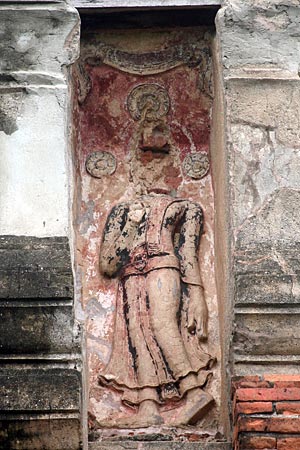 Walking (Sukhothai style) Buddha Image in a niche on the wall at Wat Phra Ram, Ayutthaya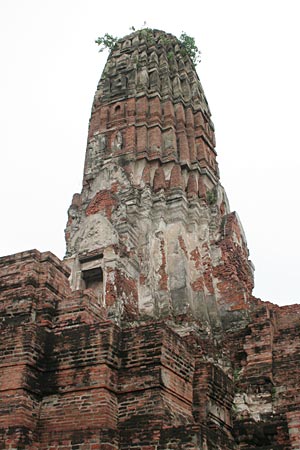 Another view of the main Prang at Wat Phra Ram, Ayutthaya