Wat Na Phra Men, Ayutthaya

Video of Wat Na Phra Men at bottom of this page.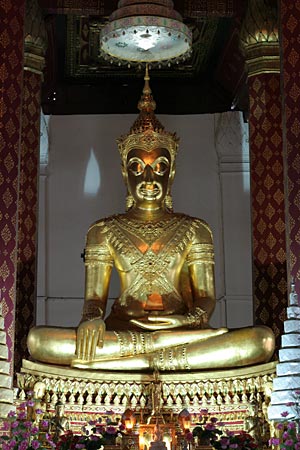 Main Buddha Image at Wat Na Phramen. The Buddha wears the Royal Attire, typical for the late period of Ayutthaya.
Literally the name of this temple means : the temple in front of the royal pyre. Royal prisoners (after being executed) were apparently cremated on the grounds. Wat Na Phra Men was built during the later Ayutthaya period.
Most temple Ubosoths of that period have been destroyed and only the base, with some walls, and supporting pillars remain. Often the ubosoths built during that time were quite large and impressive. The ubosoth of Wat Na Phra Men, though restored during the reign of King Rama III, give a good impression of how Ayutthaya temples and ubosoths of the late Ayutthaya period must have looked like.
The principal Buddha image at Wat Na Phra Men is seated in the 'subduing Mara' position, and wears royal attire. Its full name is : Phra Buddha Nimitr Vichit Maramoli Sisanpeth Boromtrailokanat. Buddha images were royal attire like this are typical for the later Ayutthaya period.
In a separate small Viharn, another unique seated Buddha image of the Dvaravati period, named Phra Khantharat, can be seen.
Behind the Ubosoth, there is the image of the 'White Buddha'. This wat contains a fourth old Buddha Image, named Chiang Sen Buddha, but it was not available for viewing when we visited.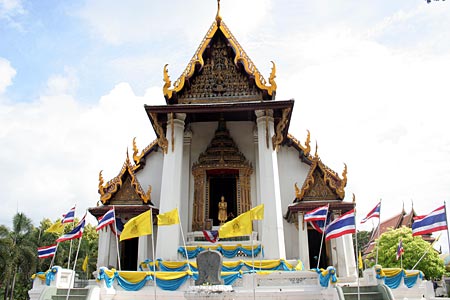 The Ubosoth at Wat Na Phramen, Ayutthaya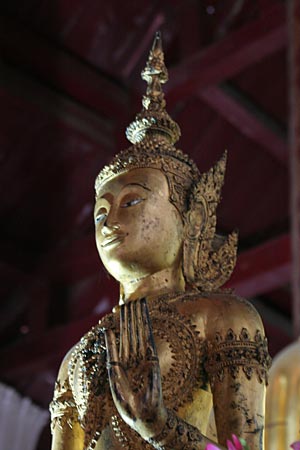 Deity in front of the main Buddha Image at Wat Na Phramen, Ayutthaya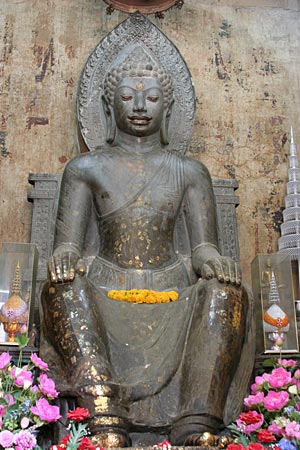 Seated Buddha Image in the style of the Dvaravati culture. Quite unusual seated position (in what is often called the European way of sitting)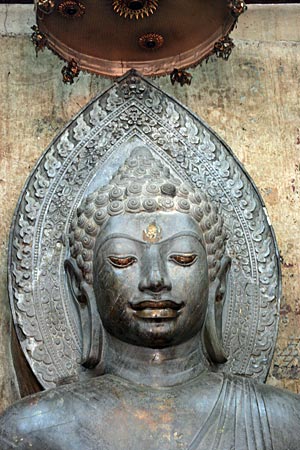 Head of the Buddha. Detail from previous Buddha Image. Dvaravati style
Larger pictures of Wat Na Phra Men